January 18th, 2006, 08:12 Posted By: wraggster

JimmyL has updated his RTS game for the DS, heres whats new:

Update. v0.5

Added a menu, you can now select Right/Left handed(hit R/L for a shortcut instead of using the touchscreen).
B/Down(right/left handed) is kill all selected units again.
Added options for 0-3 AI's in the game, they're all hostile towards each other, so it's still easy to win.
Fixed fog of war not being cleared when a unit is killed... Again...
Slight fog of war speed improvement.
Added a countdown for units being made in buildings.

Heres a screenshot: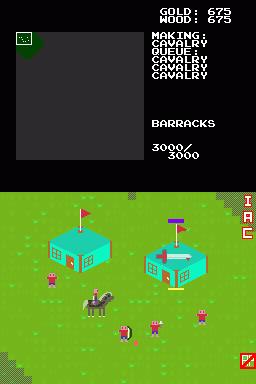 Download this excellent looking new RTS game here --> http://nintendo-ds.dcemu.co.uk/dsrts.shtml


For more information and downloads, click here!


There are 0 comments - Join In and Discuss Here