January 13th, 2008, 17:46 Posted By: wraggster

Hi all today i finally got around to getting my hands on the TOPTOY DS (TTDS) a new flashcart for the Nintendo DS from Neoflash. Heres my review of the TOPTOY DS (TTDS).

Where to Buy

Buy from IC2005 $59.00 (£28.00)

Foreword

I am not an expert on anything even though i webmaster one of the biggest homebrew sites, i am infact a fan just like most others and more of a noobie than an expert, if i dont know i ask, so from me youll get a review in a way that as long as it works then im happy, i am no expert so you wont get a massively technical explanation youll get a straight yes or no.

What is the TOPTOY DS (TTDS) ?

Heres the description:

* Slot-1 1:1 Original small size
* Build in passme function
* Not need patch, just need drag and drop, then plug and play
* Support all roms, compatibility = 100%
* Support homebrew app & game, auto DLDI patch in memory
* Support moonshell MP3/Movie player
* Support cheat code function, more fun now
* Support 4-class brightness adjust in menu (NDSL only)
* Pure hardware save, never lose data
* Automatically detect and generate save type
* TF menu core upgradeable
* Supports FAT/FAT32, works on any OS
* Supports any TF card speed without any lag in the game
* Built-in power-saving function
* User friendly skin able interface. Touch screen or button operation
* Supports skin DIY
◇Support normal TF and SDHC, up to 4096GByte.
◇Support soft reset in the game
◇Support wireless multi-player (WIFI Game)
◇The save data can use in NDS Emulator directly

Heres Some Photos of the TOPTOY DS
The Cart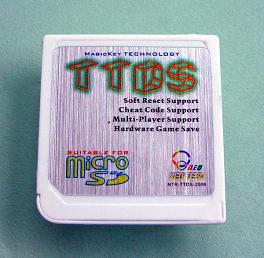 The Packaging and Contents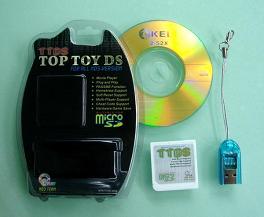 Review

Neoflash are one of the worlds biggest and well known makers of flash carts for the Nintendo DS and the toptoyDS is the latest one to grace the DS Community.

The Toptoy DS comes in a sturdy plastic packing which means that no damage should occur on route to your house, Inside the packaging comes the Flash Cart, a Mini USB adapter for Micro SD Cards (they go inside the flash cart) and a Mini CD containing drivers/firmware for the Flash Cart.

The Flash Cart itself takes Micro SD Memory Cards which are fairly cheap these days, so you can easily go up to 4GB and yes thats a shedload of Homebrew



OK now my DS Lite hasnt got a power lead so i couldnt do a thorough review but heres my findings

When i first switched on it booted up with a question mark and an error with no menu so i went to Neoflash and installed the latest one from them. I just unzipped the file and dropped it on the root of the Micro SD Card.

I then booted up and was presented with a Nice and functional Menu screen with the list of games and apps i put on to try.

Needless to say i tried some commercial roms of games i own ie Mario 64, New Mario Bros, Nintendogs and Theme Park all loaded perfectly and saved too, no slowdowns or glitches to report of. With the commercial games it does tell you some info but me being me takes no notice of it


Then onwards to the Homebrew stuff and my first to try was the latest version of DSOrganize the browser cum filofax type for the Nintendo DS and believe me Nintendo Should actually make this a base app that is on every Nintendo DS, anyway it played perfectly.

I then tried another fave A Touch of War the RTS game and yet again perfect. One game that stalled on loading was Starlite the Starcraft Clone for the DS, it had a blue cross signal so must be imcompatible i presume.

Moonshell was last on my list whilst trying to preserve my battery and it worked flawlessly.

Conclusion

An easy to use Flash Cart with excellent compatability both on Commercial and Homebrew Games, simple to use and easy to understand just drag and drop. One big feature is the ability to auto DLDI patch in memory.

The ability to use any size Memcard makes this a decent buy and well recommended.

Score out of 10, well for me id give it an 8.5/10

For those who have the TopToyDS Please give your reviews via Comments



For more information and downloads, click here!


There are 5 comments - Join In and Discuss Here