Nintendo DS Emulation NEWS
Review of Qbus Flash Writer and 256mb Cart
Supplied by Easybuy2000
Price $79.99
Features and Info
QBus is the next generation game platform. Use it to burn backups, use it as a PC gamepad, to play movies, music, and all your favorite games - all in one simple device. GBA Flash Writer Qbus is a GBA flashwriter, cartridge, and a GB simulator on PC.
Features
Qbus Flash Card is a programmable flash memory cartridge - GBA compatible cartridge. Qboy is a driver of Qbus flash writer, a software of auto-connecting the users PC to a game server which owns more than 1800 GBA games, to make searching for GBA games much easier as well writing the games into the Qbus flash cart
Users can swap the newest GBA games from a dedicated website: www.anyplay.net provided by Qboy and then flash the games into the Qbus flash card to being played under GBA, GBA SP or NDS.
The Qbus can be used by plugging it into the PC USB Port. The Qbus itself works like a real GBA joypad and users can enjoy all the games provided by the Qboy on the PC. Qbus Functions:
Playing GBA Games
Auto-update online.
Enjoy the latest function anytime
Watching Movies.
Listening to MP3Only Qbus lets you do all of this with one simple device.
Specifications
Featuring over 2000 of the latest games, movies, and music for download.
Power search feature using more options.
New software means you don't need to charge the device at all.
Simple, speedy and convenient.
Auto-update online, enjoy the latest functions anytime.
Kids or adults can use it quickly.
There are two color styles: Blue-white & Red-white.
Screenshots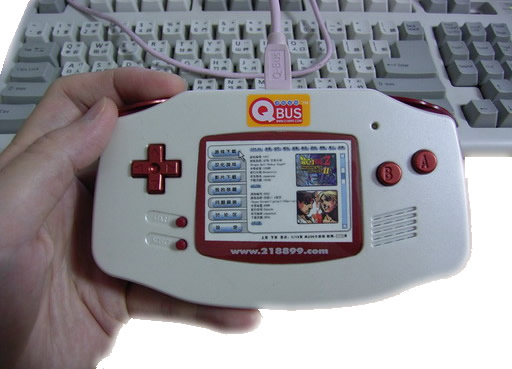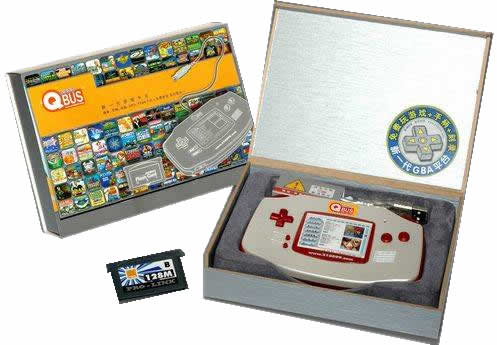 The Review

When i first heard of the Qbus i was really intrigued and wondered if the product itself could live up to the description given, Well heres my review.
Installation
The Qbus set contains a USB lead, 256mb Flash Cart, A GBA Pad that also acts as a Flash Writer Unit so no need for a Game Boy Advance, finally a Driver CD/Installation Disk.
Installation was a breeze, first off i connected the Flash cart into the GBAPad/Flash Writer and then the USB Lead to the Unit and then to a Spare USB slot on the PC, one word of warning - Always connect directly to your PC and not to a USB Hub as problems may occur.
Next was to install the CD Drivers and Program. The program came up automatically and it was a case of just clicking next and ok till it was installed. I then disconnected the USB Lead and reconnected, straight away it found the Gamepad and writer and so far so very good.
The QBOY Application
Clicking on the QBOY app that was installed opened a window that first connected ( you will need an internet connection) and then the screen opened into a search window of sorts where you could search manually for GBA Roms and also Movie/Cartoon Files and Music Videos and also MP3s, There was around 2000 Roms and other files to download, i tried a mixture of Games, Movie Files and Music Videos, clicking download started the download to the PC, the download itself was rather quick for all 3 files i was testing.
Once Finished downloading you click on My Favourites and then its gets very interesting because thats when the Gameboy Advance Pad kicks in, basically you can try all the games before you flash to a cart and to be very honest the GBA Pad was excellent, playing Mario Kart on it was great and much better than any normal controller you get for PC, (remember that you can use the joypad free of the QBoy App, great for visual Boy advance gaming.) The Joypad is a lighter version of the GBA (old version not SP) but its perfect for all GBA emulators on PC. Once you have tried the games the next move is to Write the games/movies etc to your Flash Cart. The selection process was easy, infact it was childs play just a few clicks then onto the Write Flash Button.
Writing to the Flash Cart seemed very Quick, much quicker than XG Flash Turbo and Gcube although a similiar speed to F2A Cards, one impressive feature is that any save games you create on the GBA emulator will be written to the Cart if you require it.
Testing on the GBA & Nintendo DS
Booting up with both my GBA SP and Nintendo DS i was greeted with a plain screen with the 3 files i had written to the Flash Cart, now onto testing time, first up was Mario Kart GBA and it played perfect on both the GBA and Nintendo DS with full save game compatibility. Next to try was the Matrix Trailer i had downloaded, i was surprised by the picture quality of the trailer to say it was running on the GBA/DS without any additional Hardware, the sound wasnt perfect but proper encoding would sort that out, needless to say i was impressed once more. My Final test was the Music Video file i downloaded and like the Movie Trailer the sound wasnt perfect but still watchable and downloadable and on both the GameBoy Advance SP and Nintendo DS.
Pros
GBA Gamepad - Excellent as a Flash Writer and even more so as a GBA Gamepad.
QBoy App- All the downloads are there to download and play/Trial when ever you need them.
Cons
None
QBUS Summary
To say i was impressed with this flash cart/writer/gamepad set is an understatement, the set far exceeded my expectations and is by far the easiest Flash Cart i have had to try for the GameBoy Advance.
I give the Qbus a very good 9/10 for an excellent product, get yours while you can from Easybuy2000
The Hottest DCEmu Posters