June 1st, 2006, 12:28 Posted By: Overkill06

WinFontGenerator 0.1 is a new utility software for generate custom font's sprite .
That is used for program homebrews on nintendo, gba...
It's the first version ( 0.1) and it was write in c# with visual studio 2005.
You must have the framework 2.0 for launch it.
The sources are included and the modifications are allowed.


Screenshoots :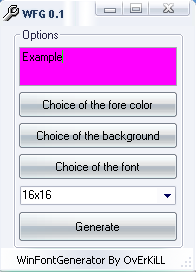 Download :

WinFontGenerator_english.rar

WinFontGenerator_sources.rar


For more information and downloads, click here!


There are 0 comments - Join In and Discuss Here