June 14th, 2007, 19:12 Posted By: wraggster

zeblackos has today released a very original application for the Nintendo DS, Weight Watchers DS is an application to help you slim with your handheld, counting the calories you eat everyday much like people do on the Weight Watchers Courses

Heres Some Screens: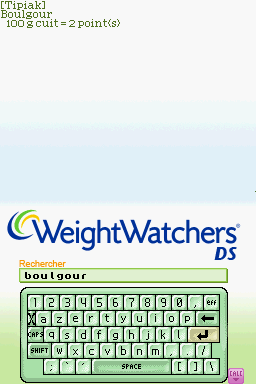 Heres the translated readme:

Too many pizza pies, beer, Coke in front of its PC without moving another thing that fingers? aïe!
For all those which want to lose with their DS, I come to make small a software which has 2 functionalities:
- It is used as computer of points "Weight Watchers"
- It makes it possible to find the value (in points) of a food, a dish etc… in a data base.
Unfortunately, I cannot provide you my data base (approximately 7000 entries) because I do not want that W.W releases its lawyer horde while howling "hang them! they fly of the material copyrighté"… I thus provided a all small data base of 12 entries which you can (must) supplement by yourself.

It is enough to respect the order of the fields as what follows:

category; the wording; unit (DC, pot, section, etc…); quantity; a number of points;

example of lines which function (important: not to forget the last "; "!!!):
Vegetables; French beans; G; 300; 0;
Vegetables; carrots nature; G; 300; 0;

You will find tons of infos everywhere on the Web, and even certainly of the preexistent lists… then one can rather easily convert them in the format of the software (with a spreadsheet for example).

If not, so that it goes, patcher is needed the program with patch DLDI of your linker.
It is also imperatively necessary to put the file "aliments.csv" at the RACINE of your linker.

Therefore, not of under repertory for this file.

keys:
- the virtual keyboard…
- The directional pad to go up and go down in the list from the answers
(and low to high make ravel one by one (if one leaves supported, the run accelerates)/left arrow = direct jump with the first response/right arrow = direct jump to the last entry)…
- A: hides the keyboard and reveals the calculator
- Y: equivalent of "backspace"
- B: obliteration
DIGG THIS
Download and Give Feedback Via Comments
For more information and downloads, click here!


There are 23 comments - Join In and Discuss Here