September 18th, 2007, 00:01 Posted By: wraggster

News/release from Stravingo: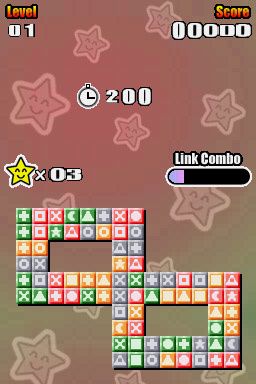 Setsuzoku no Puzzle v0.3 is available on my blog with many important changes :

- There is now three difficulty modes, instead of the single "Normal" mode. In "Easy" mode, there is few different tiles at first, but a new tile is added every 5 levels. The "Difficult" mode is for those who want a challenging game . In the three modes, the time speeds up at each level.

- In "Easy" and "Normal" modes, there is now 20 different board patterns.

- There is now three highscores tables saved on the DS and saved on the net on leaderboard.palib.info to handle the best scores of the three difficulty modes.

- When you do a highscore, you have now the choice to send it right now on leaderboard.palib.info or to send it later if you are not close to a wifi access point. In order to send unsent scores, go to the highscores screen (unsent scores are preceded by a red "L") and press X. Yes, you can now send on the net those incredible scores that you do during those endless train trips

- The current level is now automatically saved. Thus, you can turn off your DS and later you can continue to play the previous game when you choose "Play".

- Some minor graphical and animation changes.
Download and Give Feedback Via Comments
For more information and downloads, click here!


There are 0 comments - Join In and Discuss Here