January 6th, 2008, 02:47 Posted By: wraggster

Alex has released a new version of his excellent Puzzle game collection for the Nintendo DS, heres whats new in this latest version: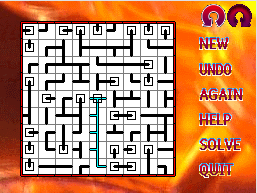 PuzzleManiak is a port of the marvelous
Simon Tatham's Portable Puzzle Collection
on Nintendo DS.

27 games integrated: Tents, Dominosa, Mines, Bridges, Light Up (aka Akari), Pattern (aka Picross), Net (aka Netwalk), Untangle (aka Planarity), Sudoku (aka Solo), Galaxies, Slitherlink (aka Loopy), Blackbox, Mastermind (aka Guess), Map, Filling, Solitaire (aka Pegs), Sixteen, Fifteen, Slant, Rectangles, Netslide, Samegame, Unequal, Flip, Inertia, Twiddle and Pyramid (adaptation of Cube).
Support of graphic themes
Daily challenge downloadable via wifi
Score submission via wifi
Global ranking computed from all scores submitted available on NDS/Website
Game translated into 7 languages:
English
French
Italian
Spanish
Brazilian Portuguese
German
Dutch

Version 3.6's changelog:

- Fix bug in Mastermind (thanks stephen for having found it)
- Fix bug in Again/Undo button detection
- Fix bug in themes management => a maximum of 7 seven graphic themes are managed now, if you've more themes installed, they won't be accessible in the game's theme management.
Download and Give Feedback Via Comments
For more information and downloads, click here!


There are 1 comments - Join In and Discuss Here