July 6th, 2012, 01:03 Posted By: wraggster

Over at the Chinese Gadgets Online Store Chinavision they have released a new handheld system called Playmore which has Sega Genesis/Mega Drive, Nintendo NES, SNES and Gameboy, GBC/GBA emulation built in: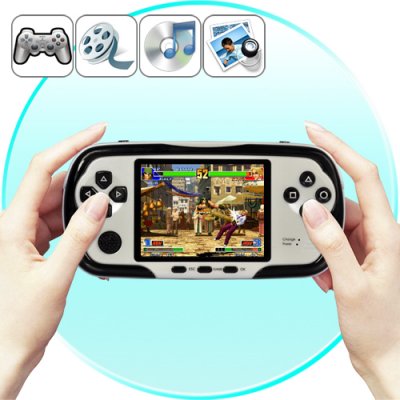 Old school gaming is back and better than ever with the PlayMore Multi-Platform Handheld Gaming Entertainment System. Featuring built-in NES, GBA, and Sega Genesis emulation, the PlayMore is the best way to relive joys from the past.

With today's addictive MMORPGs and FPS shooters, you probably can't remember the last time you even THOUGHT about playing your old consoles. Well, now it's time to take a nostalgia trip back to the past because the PlayMore Multi-Platform Handheld Gaming Entertainment System brings those classics to the palm of your hand - literally! Featuring these emulators for direct playback on a portable handheld with a 2.8 inch screen:

Sega Genesis (Sega Master Drive): Sonic may be phased out today, but that doesn't mean you can't enjoy a blast from the past with this cool blue hedgehog. Other Sega Genesis favorites include Gunstar Heroes (must play if you haven't before!) and Streets of Rage for some good old face-smashing fun.
NES (Nintendo Entertainment System): Experience the nightmare-inducing difficulty of Silver Surfer again, or have your kids tackle it on to let know what hard mode really means. As the best-selling gaming console of its time, the NES is also the origin for today's biggest game franchises, like Final Fantasy, Mega Man, and Metroid!
GBA (Game Boy Advanced)
And much more!

But that's not all, the PlayMore Multi-Platform Handheld Gaming Entertainment System also provides support for today's most popular digital music and video formats, so when you need a break for gaming, relax with a few relaxing tunes or movies.


More info --> http://www.chinavasion.com/4gb-mp4-p...-sega-genesis/ on sale now for £37


For more information and downloads, click here!


There are 0 comments - Join In and Discuss Here