July 2nd, 2007, 18:11 Posted By: wraggster

MrD has released a new version of Lemmings for the DS and it features a heck of a lot of levels of Lemmings for those who are fans and best of all its all for free because its a homebrew release: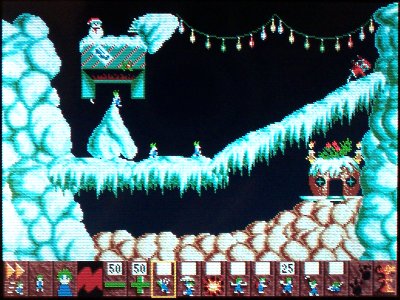 Heres the release details:

features:

All 120 levels from the original Amiga Lemmings
All 100 levels from Oh-No! More Lemmings and now…

All 72 levels from Xmas Lemmings '91, '92, '93 and '94!
That's Fun, Tricky, Taxing, Mayhem, Tame, Crazy, Wild, Wicked, Havoc, Xmas 1991, Xmas 1992, Frost, Hail, Flurry and Blizzard!

Other features include:

DLDI support - You can enjoy all of the features of Lemmings DS on any of the devices listed on this page (even the R4!) after following a simple patching process.
Automatic progress saving - Lemmings DS automatically keeps track of what levels you have completed! (No more annoying passwords!)
Make your own levels and traps using the included level editing tools, and share them with others online.
Did we mention it's completely free? - Download and play Lemmings DS today!
These new levels are due to the hard work and patience of DragonsLover, Mindless, WNivek and all of the talented toolsmiths of the Lemmings Forums.
You can keep your level progress from older versions by copying over the progress.txt files from the Lemming DS you already have.
Download and Give Feedback Via Comments
For more information and downloads, click here!


There are 18 comments - Join In and Discuss Here