The version 0.3 of Ka-BoOm is available
on Stravingo devblog
. Some modifications in this version: when the DS is closed it pauses the game, some little bugs are removed, graphics are cleaned of remaining pink pixels (transparency color), however this is only minor modifications.
The main improvement of this new version is to let you know your best scores to the entire world!

Indeed, thanks to Sumigushi (and thanks to Mollusk), it is now possible to send your best scores on
leaderboard.palib.info
, and they will appear
on this page
. For that, you must have configured WiFI on your DS and you have to be closed to a WiFi Access Point to the Internet.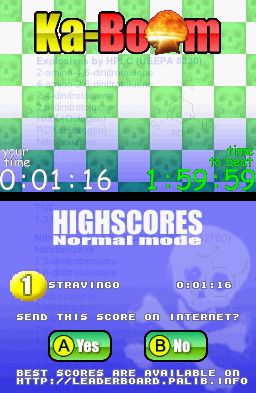 I will also add this feature to my other game Setsuzoku no Puzzle very soon. In a few days, my sister Eglantine will know if there is other addicts to this game than she is