April 7th, 2009, 13:41 Posted By: wraggster

News via pdroms

Janken is a mulitplayer network only Stone, Paper, Scissor game by Masamune

Revoilou me with a small homebrew rock paper scissors using the multi-lib liblobby (Octopus's Adventure is not dead but paused lol). This is the first version but I have the attention to leave another in a long time not to include a small graphic and other small stuff. Not really need any explanation (which does not play rock paper scissors? Lol), each player starts with 5 points and one that reaches 0 loses. I tried to find as many bugs as possible but it must have therefore still around, feel free to give me the list if you find any, it helps me a lot.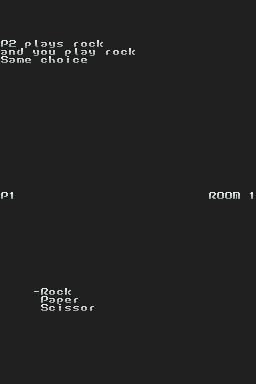 Download and Give Feedback Via Comments


For more information and downloads, click here!


There are 0 comments - Join In and Discuss Here