December 25th, 2007, 01:03 Posted By: wraggster

Yodajr posted this new release for GBA/NDS: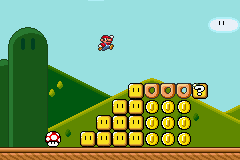 There are three levels and you have to finish!
Merry Christmas!

History:

24/12/07: the first release

How to play:

A to jump
B to run
Pad to go
...
And then good, it is mario huh, you know the rest
Download Here and Give Feedback Via Comments
For more information and downloads, click here!


There are 0 comments - Join In and Discuss Here