September 4th, 2008, 20:32 Posted By: wraggster

New from Divineo USA is a Cheat Cart/ Homebrew Flash Cart, heres the details: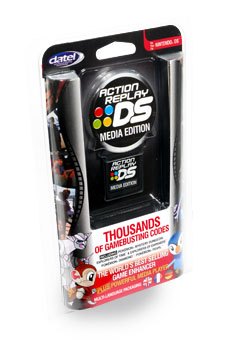 DS Action Replay Media Edition

All the great features of DS Action Replay + powerful built in Media Player for playing Movies and music from Micro DS card (Not supplied). Inc Micro SD reader, 25 mini games on CD and hundred homebrew games online.

ALL GREAT FEATURES DETAILED BELOW

Full DS Action Replay + Powerful Built In Media Player - Play movies/music from Micro SD (SD not included)

Also included 25 mini games on supplied CD or download the hundreds of homebrew games available online.

Added new feature allows user to email games saves / post game saves on internet / trade games saves.

Inc: Action Replay DS Cartridge, Media Software Disk, Micro SD Reader + USB Cable
For more information and downloads, click here!


There are 10 comments - Join In and Discuss Here