The Hottest DCEmu Posters
GBA EMULATION
Name
Unnoficial Famicom Advanced now called HVCA
Author
Description
Nes emulator for the Gameboy Advance and also the Gamecube via the Gameboy Player.
Screenshots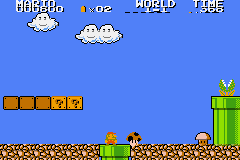 Download
v0.81 5th November 2005
V0.8 22nd October 2005 / Here HVCamfks
HERE latest Release March 22nd 2005
Disksys Here
Build Scripts Here
Information
To compile ROMs into the emulator, just download the build scripts made by Cypher2048 and submitted by Cbass182. Here's a description of how to use them, from the readme:
Just copy the batch file (.bat) that corresponds to your operating system into the directory with the 'ufcamkfs.exe' program. Then copy your '.nes' and '.fds' files into the same directory. If you are using '.fds' games make sure you also have the 'disksys.rom' file in the directory. Then just double-click the batch file and use the menu to build the 'ufca.gba' file.
fixed:
- some bugs in APU emulation.
- DISKSYSTEM IRQ timing.
changed:
- GBA interrupt handling.
- PRG-ROM below 128KB is copied to GBA WRAM. Some games operate more quickly.
added:
- VRC6 emulation, but a bit slowly.
- mapper#26