The Hottest DCEmu Posters
GBA EMULATION
Name
Unnoficial PocketNes Gameboy Movie Player Version
Author
Dwedit
Description
Nes emulator for the GBA Movie Player for use on the GBA / Nintendo DS and Gamecube Gameboy Player
Screenshots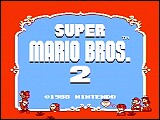 Download
V9.98 GBAMP r5 - 2005-12-23
Added (Buggy!) savestates
Used new version of Chishm's filesystem driver
Lots of small changes that might have broken things.
Code cleanup
V9.98 GBAMP r4 - 2005-12-21
Fixed hitflag problems introduced in previous version (oops)
Updated 21/12/2005 HERE
GBAMovie Player Version Here
Information

Fixed cannibalism.
Introduction:
=============
This is intended for multiboot use only, like on a gba movie player.
ALL SAVE/LOAD CODE FROM THE ORIGINAL VERSION IS REMOVED. THERE IS NO SAVESTATE SUPPORT OR AUTOMATIC SRAM MANAGEMENT.
Supports mappers 0,1,2,3,4,7,9,11,19,21,25,66,71,99, and 180. If you want any more, just let me know.
Supports multibooting games up to 256k, now including 256k PRG games! (Excluding 256k games by Rare, like battletoads)
256k PRG games will have load times, since the GBA doesn't have enough ram to hold the complete uncompressed rom. You might feel the game hiccup when changing areas or making a text box appear/disappear.

SRAM Cannibalism Feature:
=========================
You remove everything from the cartridge slot, then insert a GBA cartridge containing sram. Then you can overwrite the GBA cart's sram with NES sram. There are 4 save slots available.
For information on which GBA cartridges use SRAM, consult the list at http://releases.pocketheaven.com/. Look for entries that say something like SRAM_112 under save type.
To use:
After you save your game on the NES, Burn the SRAM onto the cartridge using the Burn SRAM command.
When you start your game again, use the Read SRAM command.
This might be useful for games like Zelda, Zelda 2, Dragon Warrior, or Dragon Warrior 2.
DISCLAIMER:
Once you overwrite your GBA cartridge's save with a NES save, your GBA save game is gone. Obviously.

Speedhacks Feature:
===================
First turn off Vsync with L+START. If the JMP hack is enough, the frame rate should rocket to at least 100FPS. Otherwise first try the PPU hack, then finally try the autospeedhack. There is no frameskip feature, so this is the closest thing to it.
The autospeedhack is essential for RPG games, especially the Dragon Warrior series. It's also useful to skip Dr. Light's blah blah when you beat a level in Megaman 2. If the speedhack has no effect on speed even with vsync off, turn the hack off to prevent problems.
Maniac Mansion dies if you try to use automatic speedhacks, so watch out.