The Hottest DCEmu Posters
GBA EMULATION
Emulators for the GBA
Name
Paco
Author
Moyone
Description
Amstrad CPC emulator for the Gameboy Advance and also the Gamecube via the Gameboy Player and now the Nintendo DS (via the GBA Cartridge slot)..
This is a 1 Game emulator but still worth a look.
Screenshots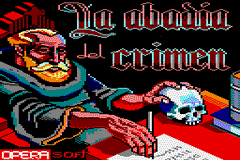 Download
Information
This is an emulator of the Armstrad CPC 6128 version of the game "La Abdia del Crimen" (lit: The Abbey of the Crime), one of the best 8-bit games in history. Graphics by Juan Delcán and programmed by Paco Menedez, former member of the group "Made in Spain Soft", who recently passed on.
The emulator has been programmed in assembly (ARM) and optimized to be executed on the Gameboy Advance video game console, or an emulator of said console.