Buy on AliExpress.com
Nintendo DS Emulation NEWS
Name MarcaDS
Author Alekmaul
Website http://www.portabledev.com/
Description Arcade Emulator for the Nintendo DS
Screenshots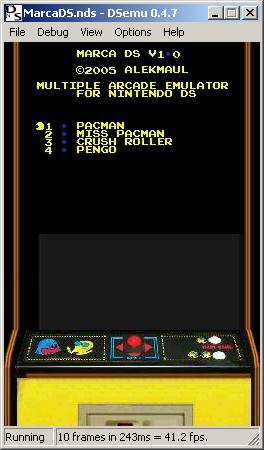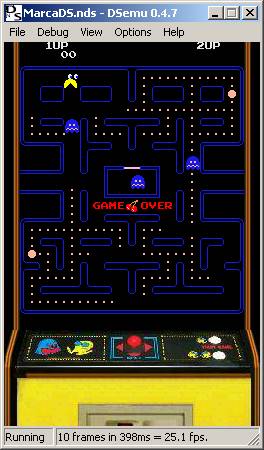 Download version 2.0 January 3rd 2006
Version 1.0 September 26th 2005
Discuss this release here --> http://www.dcemu.co.uk/vbulletin/showthread.php?t=11297
Version 1.0 of the 26/09/2005
* Initial Release.
* The sound is not well managed.

Information
MarcaDS: Emulator of terminals of arcades for Nintendo DS
MarcaDS is an emulator of terminals of arcades.
In fact, I think of emulating a certain number of plays which used Z80 like principal processor, this processor being already used on Coleco and having carried an emulator for the latter, I a little will make profitable it:)..
Presentation
MarcaDS rests on the same principle that Mame but does not use its source code, this last east can be generic but a little gas works for our small DS:), with my opinion. To use this emulator, you must have ROMs compatible MAME with format ZIP NOT COMPRESS (I did not have time to develop a "readerzip" who read the compressed format). Do not ask me a ROMS, I do not deliver them. A research with Google will give you certainly the solution.

The Hottest DCEmu Posters