Buy on AliExpress.com
Nintendo DS Emulation NEWS
Name Gridlock DS
Author Michael Berthon
Website http://miqds.free.fr/modules/PDdownloads/
Description Puzzler for the Nintendo DS
Screenshots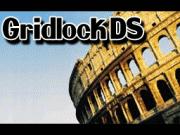 Download 1.2 Here
v0.5 Here
Information
Name: Michael Berthon

Description of GridLockDS:
GridLockDS is a porting of a web based reflexion game.
You need to find a way to get out of the screen a small smiley piece threw 40 levels by arranging other pieces.
I decided to make this small game firstly becaused i really fall in love of this game on the web, and i really wanted it for myself.
The touch screen is a fancy way to play with.
You can switch level by pressing L and R.

The Hottest DCEmu Posters