The Hottest DCEmu Posters
GAMECUBE EMULATION Emulator Pages.
EMULATOR: Gebea
HOMEPAGE:
Author: Mic
Description: GBA Emulator for Windows(PC)
Screenshots: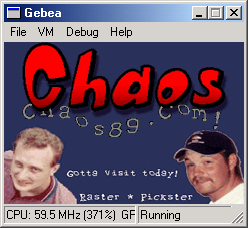 Download: HERE v10
Information
Gebea
A Gameboy Advance emulator
/Mic, 2004
About
-----

Gebea is a plugin-based Gameboy Advance emulator for x86/Win32 computers. It is
written in x86 assembly, C and Euphoria.

What is emulated
----------------
ARM7TDMI Only a few Thumb opcodes are emulated. Most ARM opcodes
are emulated, but not always correctly.
Video Mode 0, 3 and 4 are emulated. Only BG0 is supported in
mode 0, and only 256-color tiles. Vcount and the Vblank
flag are emulated. Mosaic effects on BG2 in mode 4 are
emulated.
Audio Nothing.
Input All keys except for select, L and R are emulated.
DMA DM1, DM2 and DM3 are emulated in direct transfer mode (no
interrupt driven transfers).

Timers Nothing.

Keys
----
D-Up Up arrow
D-Down Down arrow
D-Left Left arrow
D-Right Right arrow
B Z
A X
Start Return
Esc exits the program, Del sets it to idle state and minimizes it to the
tray.