Buy on AliExpress.com
Nintendo DS Emulation NEWS
Emulators for Nintendo DS
Name DS_GBC
Author Ethos
Website http://ethos.oddigytitanium.com/
Description Game Boy & Gameboy Colour emulator for the DS
Screenshots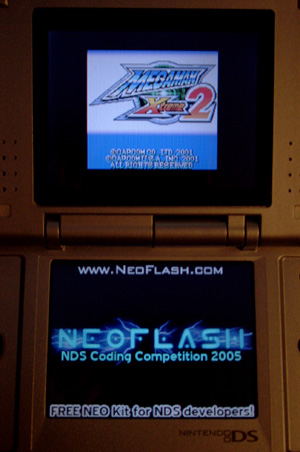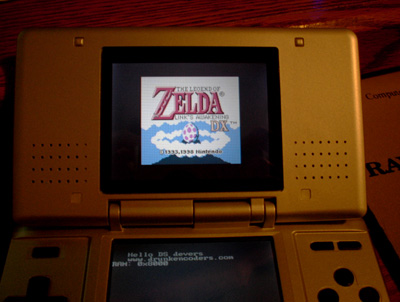 Download
Release v0.1 Here 13th August 2005
DS_GBC v0.1
Website: ethos.oddigytitanium.com
CONTENTS
========
1. INSTRUCTIONS
2. REVISION HISTORY
3. BUGS/PROBLEMS
4. THANK YOUs
========

1. INSTRUCTIONS
===============
-place a single gb/gbc rom in the directory named "game.gb"
-run makeit.bat or "make"
Note: padbin.exe is a windows exectutable. If you are running linux/MacOS
you will have to pad the rom to 2MB (0x200000 bytes). Then cat the
result between the head.bin and tail.bin. If you wish to run it on
a flash card, you must cat the pass.bin to the head of the resulting
nds file.

2. REVISION HISTORY
===================
v0.1
----
-initial release

3. BUGS/PROBLEMS
================
- Oracle of Ages - Fixed sound checker, but error with intro screens

4. THANK YOUs
=============
In no particular order:
-FluBBa
-Loopy
-Dovoto
-DarkFader
-Pan Docs authors
-gbadev.org crew

Demo1 Here Demo 2 Here 25th July 2005
[Here] is another [demo] of the emulator. As you can see it runs a lot faster than the previous demo. The biggest problem right now is in CGB double speed mode. The emulator slows to a crawl. Oh well. Sorry about the lack of work, since I got a promotion at work, and also got engaged! Also note the second demo has a save feature (press start in game). It will save only to a non-commercial GBA cart, with any recent DS homebrew program on it.

Here Preview release

Information
Early GB/GBC emulator for the Nintendo DS



The Hottest DCEmu Posters