The Hottest DCEmu Posters
GAMECUBE EMULATION Emulator Pages.
EMULATOR: Chip8 Emulator
HOMEPAGE: n/a
Author: DesktopMan
Description: Chip8 Emulator for the Gamecube.
Screenshots: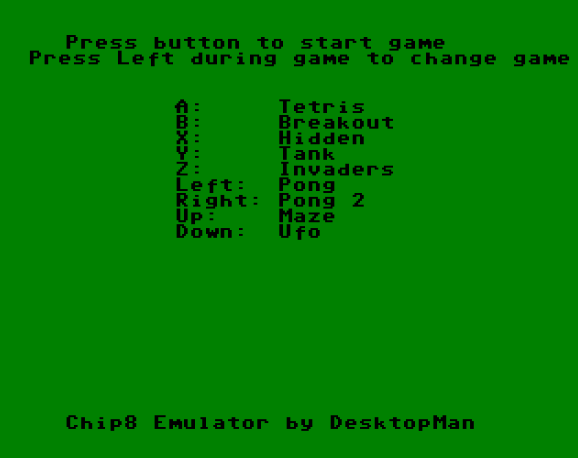 Download: HERE
From the Readme file:
*********************************
Chip8 Emulator 1.0a By DesktopMan
desktopman[at]fritidsproblemer.no
*********************************
---
Why
---
I wanted to learn emulation. Chip8 is easy, and has some really old games :)
-----
Usage
-----
Load the dol using the pso hack. Follow onscreen instructions.
Due to the fact that Chip8 had a numeric keyboard, the keyboard mapping is all fucked up.
You have to figure out the keys in each game yourself :) Chip8 has a total of 16 buttons,
So analog, analogC, and all the digital ones are used. Digital right is mapped
to hotreset, and digital left is change game.
This version is for built-in roms only. 26 provided. I will probably release a generic one later.
I have also provided the debug version, incase anyone is interested.
If something crashes, note down registers and let me know :)
Pad overview:
Original pad (16 keys):
1 2 3 C
4 5 6 D
7 8 9 E
A 0 B F
Emulated as this
L AnalogY Y R
AnalogX A AnalogX Z
Start AnalogY X AnalogCY
AnalogCX B AnalogCX AnalogCY
--------------
About emulator
--------------
Total programming time, incuding research: about 13 hours
Speed: A gazillion times faster than the original :P
Programmed in c, compiled with gcc for powerpc target.
---------------
Version history
---------------
1.0a:
-Wait-for-key opcode doesn't hinder restart or game switch.
-You can now restart from the menu aswell.
-Speed adjustment during play: Digital up: faster Digital down: slower (cpu cycles per vblank)
-Fixed some bugs in the cpu-core. (I love that word) "Hidden" and others now works as they should.
-Added a few opcodes
-Added some more info to the readme, fixed some spelling errors :)
-New menu system with all games
-Revised the control setup. Now is more similar to the original pad.
Note: Since the pad was in two versions, 8 and 2 (up and down in most games) are sometimes switched.
-Added the game-info txt to the zip. (written by David Winter, author of Chip8 emu for pc)
1.0:
-Initial release
---------
Thanks to
---------
Costis
Torlus (gcc build)
Titanik
Ector (for some opcodes and Chip8 font)
#gcdev
www.gcdev.com
----------------------------------------------
DesktopMan (desktopman[at]fritidsproblemer.no)