The Hottest DCEmu Posters
GAMECUBE EMULATION Emulator Pages.
EMULATOR: Virtual Gameboy Advance
HOMEPAGE:http://fms.komkon.org/VGBA/
Author: Marat Fayzullin
Description: Virtual GameBoy Advance (VGBA) is an emulator of the GameBoy Advance videogame console produced by Nintendo. It allows to run GameBoy Advance games on PCs, Macs, or just about any other sufficiently fast computers in existence. It can also help to debug GameBoy Advance software without using a costly development system. VGBA is not a real GameBoy Advance though.
Screenshots: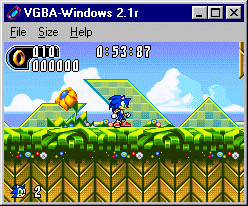 Download:
Virtual GameBoy Advance 2.1 FreeBSD (FreeBSD 4.6.2, needs 16bpp X11 and POSIX threads) Here

Virtual GameBoy Advance 2.1 Linux (RedHat, needs 16bpp X11 and POSIX threads) Here